FFA Farm Supplies Produce for Cafeteria
Hang on for a minute...we're trying to find some more stories you might like.
After standing in line for what feels like forever, the lunch lady finally hands you your food. Your stomach growls as you rush over to your lunch table.
In one movement, you carefully set down your tray, take a seat next to your friends, scoop up your plastic fork and devour a big bite of tasty salad.
Have you ever wondered where the cafeteria got the ingredients for that salad?
Cambridge students and teachers have started a project this year to improve the freshness of fruits and vegetables served in our cafeteria.
The Future Farmers of America Club (FFA) was presented with an opportunity by The City of Alpharetta. There is a small farm about 13 minutes from school located in Old Rucker Road Park.
It is on the corner of Mid Broadwell and Rucker Road. The park is fairly small with two gardens, each about half an acre, a small house, a greenhouse and an outdoor classroom.
The City of Alpharetta owns the farm and reached out to the school asking it to grow a small fruit and vegetable farm on the park property. The idea was then approved by the city council at the beginning of the year.
The funding is provided by a grant from the Chattahoochee Nature Center, a non-profit education facility in Roswell that focuses mainly on environmental education and teaches students positive ways to connect with nature.
The school's chapter of FFA was given the responsibility of taking care of and growing the new farm. After months of organization and planning, the first seeds were planted in September.
Winter crops such as kale, radishes, bok choy, lettuce, and broccoli were the first ones planted.
Junior and FFA member, Shelby Harber, said, "I like having the opportunity to do something good for the environment while being involved in a school activity."
In the last week of November, the FFA club went to the farm before school to harvest their mature plants. They came back to school with about 20 pounds of radishes for the cafeteria to use in its salads for the day.
"Even though it was 20 degrees this morning, I loved going out there to harvest our crops and watch the kids see the progress we have made on the farm," FFA leader Sarah Nerswick said Nov. 28.  
Everything they grow is organic, meaning they don't use any fertilizers or pesticides on the farm. The farm has many different crops that mature at different times, which is good for the soil and nutrients.
By using personally grown ingredients in the cafeteria, the food served will be less processed and more natural, however, most students still said they wouldn't buy cafeteria food.
"I think growing our own foods is definitely healthier,"  junior Ashley Spina, who brings her lunch every day. "But I still don't like eating cafeteria food."
Out of 25 students interviewed in the cafeteria, 24 percent said organic ingredients from FFA's farm might cause them to switch from homemade lunches to school-bought lunches. But 60 percent said the changes would not make them more likely to buy the lunch.
One of those students is senior, Tess Abraham. The only stuff I buy is chips and cookies anyway," said Abraham.  
Currently, FFA is the only group involved in the farm. Next year it will still play a large part in the physical labor of it, however, Nerswick wants to incorporate her fourth-year vet students as well.
She wants to not only have them work on the farm during class hours but also have them create a business plan for the farm to sell the crops grown.
With their business plan, Nerswick said she expects the farm to turn a profit and that she hopes to use the funds to pay her students for their work on the farm.
The class would resemble a sort of work-based learning because it would be during school hours, but the students also have an opportunity to make money.
"To see the full cycle of food production is one thing most of us will never enjoy. I am thankful that these dedicated students have really enjoyed and committed to the farm," said Nerswick.

About the Contributors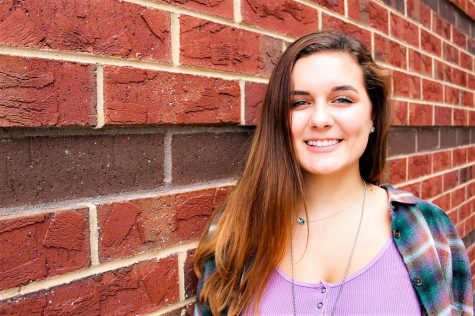 Sarah Hudson, Reporter
Hudson is a junior and a first-year reporter. She loves anything that's creative and has a passion for traveling.