"A Time of Giving": All of the Drives You Can Donate to this Holiday Season
Hang on for a minute...we're trying to find some more stories you might like.
The holidays are a time for giving, and what better way to do that than to donate to one of the several drives going on at school?
The Winter Solstice Tree is a gift card drive run by Mark Schuler, and the gift cards are then sent to the Division of Family and Children Services (DFCS), who then distributes them to foster children.
Schuler started the drive to benefit older foster kids, who he said are frequently left out of similar drives.
"They are mostly targeted at young kids, and teenagers are forgotten," he said. "They either don't get anything or they get what's left over from the younger kids."
Schuler said that last year the school beat the combined donations of Milton High School, Roswell High School and Johns Creek High School combined. He hopes to beat last year's total this time around.
Students that want to donate should take a paper tree off the Winter Solstice Tree located in Schuler's classroom, room 2801,  or on the bulletin board outside his room.
They should then pick a gift card with a value of $25 or more and put it in a gift bag. Schuler said that gift cards should be for places that teens would want to go, such as Chick-fil-A, or large chain stores such as Walmart and Target where teens can choose from a wide variety of items.
Gift cards and bags should be returned to Schuler by Friday.
Another great opportunity for students to help others is the Holiday Toy Drive, backed by the school's Career and Technical Student Organizations (CTSOs).
According to Officer Timothy Hart, it is similar to the Winter Solstice in that they want to place an emphasis on donations for older kids, but gifts for all ages are encouraged.
"We're pretty fortunate," Officer Hart said. "If you're not doing anything for anyone else over the holidays, you're missing the whole point."
Students can donate new, age-appropriate toys and gift cards for big chain stores. These donations will be given to the North Fulton Community Charities (NFCC), who will then distribute them.
Students who donate can earn BETA hours and NHS hours, and students in a Career Technical Education Pathway can earn Professional Development (PD) points.
Donations can be dropped off in the counseling office, in rooms 1409 and 1433 and before and after school in the carpool lane. The drive lasts from Dec. 10 to Dec. 14.
For more information about the drive, visit skillsbears.com.
The Gender Equality Club is running the Drake House Drive for the third year in a row to benefit women and children experiencing homelessness.
The Drake House is a local organization that helps women and children who are experiencing domestic violence or don't have a home. It provides them with food, clothing and housing.
Although canned food can be donated, the majority of donations should be cleaning supplies, which history teacher and Gender Equality Club sponsor Lauren Hall said are often ignored in favor of canned foods when it comes to charity drives.
"They often have nothing to live with when they are given a place to stay," she said. "We don't think twice about them, but they are absolutely necessary."
Hall also said that donating to the Drake House, a local organization, raises awareness from students who might not realize how many people in their communities are in those situations.
"These problems are not just in other places, they are in our area too," she said.
Students can drop off donations in the designated bins in Hall's room, 2801. The drive ends on Dec. 21.
The many opportunities to donate and help others around the school leave no excuse to not get involved in some way. If you can, take advantage of these options to do a little more giving this holiday season.

About the Contributor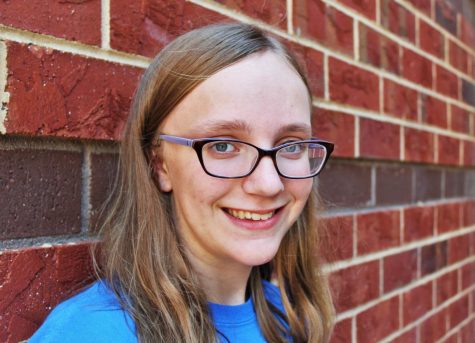 Anna Kerber, Reporter
Kerber is a junior and a first-year reporter. She is part of the swim team and enjoys to read. An interesting fact about Kerber is that she was selected...