Vaping: The New High School Epidemic
Hang on for a minute...we're trying to find some more stories you might like.
For almost 20 years, cigarette smoking has been on the decline among teenagers. It's expensive, unhealthy and it's just not cool anymore.
In recent years, however, students have decided that while cigarettes aren't so cool anymore, maybe vaping is.
Vaping, (or the smoking of e-cigarettes), is a relatively new type of tobacco use introduced around 2007 to help people quit smoking. For middle and high school students, however, it has done the opposite.
Cigarette smoking and tobacco use had, overall, been on the decline among underage students.
According to the U.S. Department of Health and Human Services, use peaked in 1997 and has gone down every year since 1999. Much of that progress, however, has been reversed thanks to e-cigarettes.
Vaping has become an epidemic for students across the country, as it has become the most common form of tobacco use among them.
Until recently, these e-cigarettes have mostly been unmonitored by the Food and Drug Administration (FDA). Due to the prevalence of vaping among teenagers, that lack of involvement from the federal government's part has begun to change.
The FDA announced on April 24 that they'll be taking action to curb the sale of vape products to minors, following an "undercover blitz" in which the agency discovered many violations on the part of both online and physical stores.
"Since it's an unmonitored substance, we do not know what's in there," said Clinic Assistant Karen Thimsen.
One vape company that is particularly under fire at the moment is JUUL Labs, a company that has become known as the cool teen vape brand' for its supposedly discrete, flash drive-shaped vapes and fun flavors of e-liquid colloquially known as vape juice or pods.
In an official statement, the company said it is not targeting teenagers with their products.
That stated intent, however, hasn't stopped JUUL from becoming one of the most popular types of vapes among teenagers, as "juuling" has now become a verb for teens. 
School Resource Officer Terrance Floyd receives vape devices that are confiscated from students.
"Earlier in the school year, I probably received at least one per week from an administrator," said Floyd. "Once the students realized that there were consequences for vaping and the devices were confiscated, the number of incidents began to decrease."
When a device is confiscated from a student, Floyd said, it's destroyed and never returned. Floyd said he thinks this contributes to the decline in incidents as the school year goes on.
Literature teacher Donna Wrinkle, who runs detention, said she thinks the notion of getting in trouble for vaping, in school, has turned some students off the notion of doing it.
"I do believe that Friday night school deters a lot of students," Wrinkle said.
Not all students, however, are stopped by the risk of getting in trouble or receiving detention.
Sophomore Mason Fletcher, who sees students vaping at school "at least once a day," said the most common places to see students vape are in the bathroom or during class.
"People will go to ridiculous lengths to think they're cool because they will do it in class when the teacher turns their back," said Fletcher.
Vaping has become so common, in fact, that students make comments about it that sound like jokes, but you know they are probably not kidding.
While walking in the halls, students will sometimes joke that someone should vape in a bathroom to relieve it of its bad smell.
Thimsen said she has researched the health effects of vaping on her own to find out if any long-term studies exist, but, as of yet, she has not found any such studies.
She also said that even if vapes contained no harmful substances whatsoever, the action of just smoking or vaping can stunt students' young, developing lungs.
Despite the lack of long-term studies, there have been some short-term investigations into the makeup of e-liquids.
In February, in a study done by a group of environmental health scientists at Johns Hopkins University and Columbia University, e-cigarettes were found to be a potential source of toxic metals.
E-liquids can contain trace amounts of these metals, but the study found those levels were much higher when the e-liquid was actually heated on the vape's metal coil.
In addition to this potential health risk, Floyd said he's seen students experience negative reactions to certain e-liquids.
One thing multiple staff members have agreed on is that students should refrain from vaping in or out of school.
"If I were a student, I would be dubious of the effects [of vaping], because it is all still new," said Wrinkle.
Others in the school worry that vaping will lead to a resurgence of tobacco addiction in the school.
"I think a lot of people think it's not a big deal," said Assistant Principal Kim Premoli.
Premoli said it seems as if students believe vaping is safe but also said it's always dangerous to not know what you're putting in your own body.
Floyd said he recommends students to stay away from vaping altogether.
"School is not the place to experiment; it's the place to learn and grow," said Floyd.

About the Writer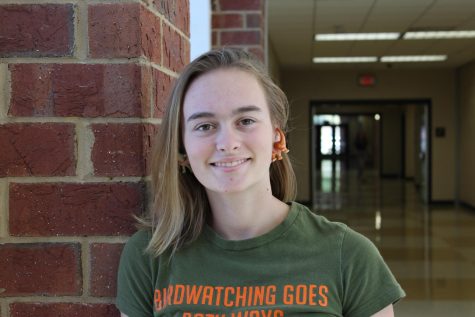 Libby Jones, Managing Editor




Libby Jones is a senior and a third-year reporter. She is one of the managing editors at The Bear Witness. She loves writing, art, and all...