Meet New Literature Teacher Jesse Greener
Hang on for a minute...we're trying to find some more stories you might like.
The school has a host of new staff members for the 2017-2018 school year. Among them are new teachers in several departments, from math to foreign language.
These new teachers come from many different places and schools. Some came from other parts of metro Atlanta, while others came from other countries, such as Haiti and Germany.
Just like the students, the school's staff is full of people from different places, cultures and backgrounds.
One new teacher is Jesse Greener, who teaches 10th-grade honors literature and 11th grade American literature.
After growing up in Arlington, Virginia, Greener went to a small high school in North Georgia and moved to the Atlanta area in 2012.
Not only is Greener new to the school — it's her first year in the classroom.
Though she originally worked in politics, she regretted not going into education. She went back to school to get her degree in education and began working here at the school shortly after graduating.
Greener said that once she decided to become an educator, she knew she wanted to teach English.
"Writing is a critical life skill that everyone needs to develop in some way," Greener said. "Literature is this device that allows us to develop our own writing skills."
She said she enjoys helping students develop their own writing style by helping them understand why they enjoy books, movies and other literature.
Greener attended a high school much smaller than Cambridge; however, she said she likes the community of a bigger school.
"Although it's large, everyone is super friendly," Greener said. "They've done a really good job of implementing programs and giving students different opportunities."
Even though Greener teaches two English courses, she said they are very different from each other. Nevertheless, Greener said she doesn't have a favorite of the two since the differences between them are all positive.
However, Greener does have a favorite age group to work with: high school.
"I think that they have valuable things to say and participate in," Greener said. "The dialogue is relevant."
One of Greener's students, sophomore Belle Catanzaro, said she likes the way Greener gets to the point of a lesson quickly, but doesn't tell the students how to interpret things.
"She addresses topics in a really serious way, but she finds a way to engage us," Catanzaro said. "It doesn't seem like her first year of teaching."
Another one of her students, sophomore Dominic Mandato, said he didn't think Greener's status as a new teacher would be a problem.
"She seems like she's gonna be a great teacher," Mandato said.
Greener doesn't feel like she's been at the school long enough to compare it to her own high school experience, but she did compare the agriculture program to the farm program at the high school she attended.
Greener said everyone in her department, as well as other departments, is very helpful and outgoing, and she's not afraid to ask for help with the things she's still figuring out, like all the different acronyms, such as PAWS and CLAWS.
Greener said the hardest part about teaching literature for her so far has been keeping up with the grading and curriculum. She said she has to make sure each week's plan builds on previous weeks, adding that her experience has been a good one.
"It's just a very positive place to be," Greener said of the school.

About the Contributor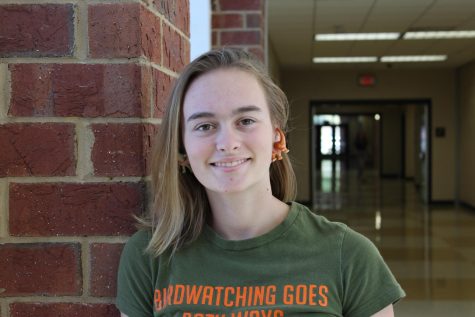 Libby Jones, Managing Editor




Libby Jones is a senior and a third-year reporter. She is one of the managing editors at The Bear Witness. She loves writing, art, and all...