Enterprise Collection Day Five: Student Athletes
The challenges of maintaining a healthy social, academic and extracurricular life are paramount for all high school students. How does this look for those students whose lives are consumed by athletics?
May 23, 2019
Dear readers,
When the editors and I began discussing how to approach our enterprise series this year, one thing was made painstakingly obvious: the community and world which we inhabit made it impossible to limit ourselves to just one topic as we had in previous years.
That is why this year, in a departure from tradition, we have decided to give the dedicated reporters on our staff the opportunity to go and seek out the topics that they are passionate about, and give our readers detailed, in-depth coverage.
Each of the stories you see is the fruit of an effort by a dedicated duo of reporters who saw a topic they wanted to pursue, and went out to explore its intricacies. We hope each individual series can give you a more detailed look at a topic that affects people not only at Cambridge, but throughout the globe.
Thank you,
Cherise Kim
Editor-in-Chief of The Bear Witness
Student Athletes: How Do They Balance Sports and School?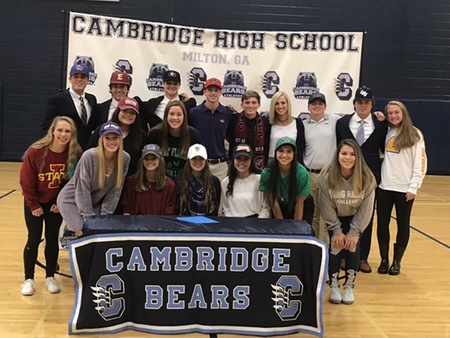 The late Steve Prefontaine once said, "To give anything less than your best is to sacrifice the gift."
The former professional U.S distance runner's quote has resonated with generations of athletes of all calibers in their journeys of improvement. Today, we see this mindset reflected in some of the school's top athletes as they turn the page on their high school careers and look to the future.
On Feb. 6, 18 Cambridge athletes signed letters of intent to 18 different colleges where they plan to further their development in their respective sports throughout their postsecondary careers.
This was the culmination of years of hard work filled with countless hours of training, late nights and extensive attention to detail.
This intense level of commitment to one's sport is contingent on their willingness to give up other endeavors. Social outings, jobs and extracurriculars often come second to athletics in the lives of these top athletes.
Senior Jack Filan, who committed to Ole Miss for cross country and track, spoke on the precedence of athletics in his life.
"I run up to 70 miles a week and do several hours of recovery and core along with the actual running," said Filan "That takes up a lot of time and energy and makes it hard to do other things, like work."
Still, not being able to work is not a particularly tragic loss for a high school student. The more impactful sacrifices of being a top-tier athlete are more present in the social aspects of their lives.
The loaded schedules of these students often overlap into time usually allotted for social events. Activities the typical student often takes for granted, such as spending time with friends, staying up late or going out on the weekends, can be much desired luxuries for these athletes.
"It's not the best feeling when all your friends are going out on the weekend, but you have to stay in because you have practice or a meet the next morning," said senior Carson Ertwine, who plans to run for the University of San Diego next year.
Sometimes the sacrifices are major aspects of their lives. Both Ertwine and Filan gave up their previous sports in order to dedicate more time and energy to running.
"The biggest thing I had to give up was basketball," said Filan. "I knew I would be more successful in running, so I had to stop playing basketball competitively to focus more on cross country and track."
"I played soccer for the school freshman year, but I decided that if I wanted to run in college, I would have to quit so I could run track in the winter," said Ertwine.
It is this willingness to give up these activities for the purpose of improvement that sets these individuals apart from their teammates, and the results show in the signees.
South Carolina soccer commit senior Ethan Rose was named region player of the year after the conclusion of the 2017 season, which ended with a region championship and second place finish at the state championship.
Junior Gavin Kane, who recently committed to the University of North Carolina at Chapel Hill for wrestling, secured his third consecutive state championship this February. This added to his many accolades during his undefeated 2019 season.
Senior Delaney Goodell, who plans to play soccer for Iowa State in the fall, was able to help the school's girls cross country repeat as state champions last November, as well as compete for the school's swim team all while playing for her club soccer team.
After four years with the school's program, West Florida swimming commit Lauren Johnson ended the 2018-2019 season medalling at the state championship with a third place finish in the 6A conference.
These accomplishments become even more impressive when one considers the environment of these students.
Cambridge is extremely competitive academically, with over 30 AP and college level courses offered, countless extracurricular clubs and other résumé loaders. With such high academic standards, it adds to the tremendous load these students already have.
A major criticism of collegiate athletes is they disregard academics in favor of athletics and will use their physical capabilities to advance in life. However, this is not the case for Cambridge's top athletes.
The colleges that top Cambridge athletes are committing to are well-regarded for their academics. National rankings, above-average standardized test scores and competitive acceptance rates are shared traits among all of the 18 colleges.
Their acceptance was not only contingent on their physical abilities; all of the athletes take multiple AP's and honors courses, and actively participate in many clubs and other programs.
"The most stressful part of my schedule is definitely schoolwork," said Goodell. "I've taken multiple AP's throughout high school, and they bring so many responsibilities, with homework, studying and projects. It gets tough to balance it all with sports."
Managing academic and athletic responsibilities requires both great focus and solid planning skills.
"I make sure I always do my homework right after practice so I don't fall behind and I keep a list of upcoming tests, meets and other events," said Filan.
Needless to say, high school is already a stressful experience for teenagers; the burdens of social expectations, familial responsibilities, school itself and other obligations add up quickly. This overwhelming sense of pressure often can add up and become frightening.
Handling this all comes down to proper management and awareness. Students should have their priorities and goals clearly set, and stay consistently focused on them.
Adding elite-level training to the balancing-act of high school life is a mark of extreme maturity. Being able to physically do only what a handful of people can do requires an immense amount of planning and effort.
However, the most necessary task in achieving such ambitious goals is the ability to recognize all you must sacrifice and actually giving up those luxuries.
As these athletes move on to their respective colleges, they stand as exceptional examples of not just athletes but student athletes. Their willingness to sacrifice the unnecessary and maintain a razor-sharp focus for so many year serves as a top model for success in any field.
The Pros and Cons of Being a High School Athlete
Playing sports competitively through high school, can present many benefits in both the present and the future. But it also comes with risks and struggles that can make it a challenge.
Participating in high school athletics is beneficial because it allows students to not only stay active, but also increases their chances of getting college scholarships.
According to The Faculty of Sport and Exercise UK website participating in regular physical activity, especially during adolescence, can increase your self esteem, as well as decrease anxiety and depression.
They also say that regular physical activity helps prevent mental health issues, and improves the quality of life.
Scholarships give lots of student athletes the opportunity to play their sport of choice throughout college, and if they didn't get into the university with academics.
While there are benefits to playing sports in high school, there are also drawbacks. The stress from athletics, education, and balancing social lives can lead students to spiral out of control.
Senior Jaber Obeid, who plays forward on the Varsity soccer team says that he thinks that high school athletes have a lot of stress on their shoulders.
"It's a lot to balance especially as we get closer to finals week. We had to grind earlier this semester to be able to keep up with soccer season. Now that soccers over I still need to catch up a little in school," said Obeid.
Many high school students who participate in athletics struggle with being able to balance everything in their lives.
Many of them have to make sacrifices such as not being able to hang out with their friends, or not being able to balance a job.
Not being able to work a part time job is an issue for a lot of students.
It means they don't have a steady access to money, so they can't lead social lives as easily as students with a steady income stream. It also means they do not gain the skills of having a job, such as having to pay taxes.
Senior Kenny Rosenbloom, who plays pitcher for the Varsity baseball team, has several ways to deal with stress.
"I find that the best way for me personally to reduce stress, is going skateboarding , or hanging out with friends. It gives me time to just relax and remember that the world isn't ending."