Girls' Flag Football Ends with a Record of 3-4
The girls' flag football team ended its season on Nov. 17 with three wins and four losses.   
The season started late due to COVID-19, which resulted in the team having less games and practices.  
"We weren't even sure if we were going to have [a season], but the girls worked hard, and their improvements from the first to the seventh game was tremendous," Michael Matthews, the team's main coach, said. 
Because the team was new, the coaching staff used most of their efforts to increase the chemistry between the players. 
"The best moments I remember was our last football game when Coach Matthews flipped twice — a cartwheel celebrating the win — and Coach Grey doing the Milly Walk dance," Taylor Barads, a senior and cornerback for the team, said.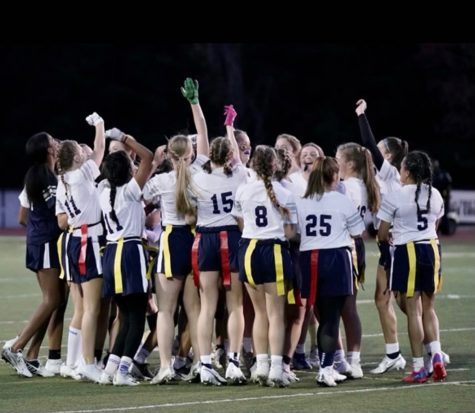 Barads said she had never been in a team sport, so playing flag football was new for her. 
"Even when we lost, it was a win for us because we played like a team," she said. 
She said it was a bittersweet experience. Since she's graduating in the spring, it's her first and last season. 
Senior Savanna DePriest, a linebacker, center and captain, said she was surprised at how well the girls worked together for being the first season. 
"Our team is very aggressive," she said. "[I've] never seen a team with this great chemistry." 
Senior Makayla McCain agreed, saying "When it comes to defense, we were the best." Her position was free safety, meaning she guarded the opposing team's wide receiver. 
As a captain, she shared her wisdom for the future players and the freshmen on the team.  
"Don't put a lot of pressure on yourself. It's a fun game, and one of the best games in the world, in my opinion. Really love it and just have fun with it. As long as you put efforts in, you will have fun," she said. 
Despite losing more games than winning, DePriest is still proud of the team's performance. 
"It is not always about the winning part we tried our best and we put our efforts in," DePriest said. "Yeah, we made few mistakes during the games that we could've won, but realistically, we did good."