Beloved Teacher Russell Gray Back in the Classroom After Battling Cancer
"How are you? Are you ready to learn?" said a smiling face at the front of the room as students sat in a Legal Environment of Business class.  Students were actively listening and engaged with lively energy. 
Students were happy to start class with Russell Gray. 
However, at the beginning of 2021, his upbeat, positive personality was absent from the classroom. 
In December 2020, Gray was diagnosed with non-Hodgkin's lymphoma, a blood cancer, which doctors estimated he had developed nearly 10 years ago.  
"He seemed like such a healthy, energetic person, so I was shocked when I found out," said junior Meghan Thota. 
According to WebMD, Non-Hodgkin's lymphoma begins in the lymphatic system and causes tumors to form throughout the body. Doctors are unsure of what the cause is. 
One of the most prominent symptoms is persistent fatigue, which Gray said he was experiencing a lot. Other symptoms include chills and shortness of breath. Treatments include stem-cell transplants and chemotherapy.  
He endured months at home with no visitors and had a lot of alone time.   
"It gave me a lot of time to think, pray and reflect on what was most important," he said.  
His students said that while he was at home, Gray's classes were not the same without his upbeat attitude and excitement to teach. At first, he coordinated with a long-term substitute to keep his class running smoothly. However, after about a month, the chemotherapy's effects became too overwhelming, so he completely turned over the class to the substitute.  
"The class had a completely different atmosphere without Coach Gray there," said junior Jay Shivdasani. "He teaches so passionately and makes the class entertaining." 
Gray also sponsors the school's chapter of Future Business Leaders of America (FBLA). Senior Anvitha Suram, FBLA's state secretary, worked closely with Gray. 
"It was hard to see a familiar face disappear," Suram said. 
After undergoing four months of chemotherapy, Gray was finally cancer-free. He returned to the school in August after missing the second semester of the last school year.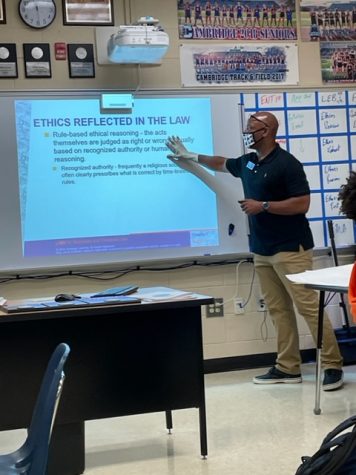 Gray said he was excited to return to the school and get back to teaching.  
"I was so relieved when he returned," Suram said, "It was like he never left." 
Gray said being back in the classroom helped him feel more like himself again. He said being able to see his students again helped him remember what he cherishes about the job. 
"I didn't realize how much I love my students until I wasn't able to see them," Gray said. "I am so glad that I am finally able to see their smiling faces."