To All the Boring Movies I've Watched Before, At Least You're Better Than This One
With expectations low, I turned off the lights, powered on my projector and got out some lightly buttered popcorn, various candies and my reporter's notebook. My dog, Scout, was lying next to me. I braced myself as I pulled up Netflix on my laptop. 
The Bear Witness's managing editor, Rachel Lichtenwalner, told me earlier that day I was in for a treat. A horrible, cringey treat. 
I hit "play" on the screen and commenced one of the worst two hours of my life: watching "To All the Boys 3: Always and Forever." 
The film is a Netflix original and the third (and final, thankfully) installment of the "To All the Boys" franchise. The movies are based off the young-adult novels authored by Jenny Han. 
The film has three settings: South Korea, California — the characters' home state — and New York, where the students went for their senior field trip.  
In the beginning of the movie, Lara Jean, the protagonist, and her family are in Seoul for vacation. Lara Jean's late mother was Korean, and her dad is white; hence, she is biracial, and while in Korea, Lara Jean said "it's like I don't belong" because of her mixed ethnicity. 
As a biracial person myself, I completely understood her dilemma, and I thought it was a really good quote for the screenwriters to include. 
After I watched the part of the movie set in Seoul, my sister popped her head in my room. "I watched for 10 minutes and got bored," she said about the film. I was feeling that as well.
I could already tell a plot was going to be nonexistent. I was bored only 20 minutes into the one hour and 55-minute-long movie.  
I should've just done my math homework instead of wasting my time on this rom-com. 
Junior Sarah Meredith said the film was "very predictable."
Freshman Terra Uribe added to Meredith's comment, saying the movie was "not unique" and "like all the other romantic movies." 
Not too long into the film emerged the hidden secrets trope, where one character keeps a massive secret from another character they love, maybe because they fear their relationship will break down, or perhaps because they don't want other types of drama if they can help it. This secret is usually kept for a long time. 
This trope boils my blood because it's cringey and makes me anxious. Nothing besides drama comes from it. I try to avoid reading books or watching movies with it included, but I wasn't lucky enough to escape it this time. 
In this case, Lara Jean did not admit her rejection from Stanford University to her boyfriend, Peter Kavinsky, who thought she had been accepted because of a texting mishap. 
Lara Jean and Peter had plans to go to college together, which is why LJ didn't tell Peter about the rejection. She was scared, and at first I thought, "Why is she scared? He shouldn't be mad." 
But, alas, Peter Kavinsky got upset.  
I despised him while watching the film. 
The underlying issue of this movie is he's portrayed as a good guy who is trying to salvage his relationship with his girlfriend.  
During his attempt to achieve his goal, Peter was controlling, and it was just gross. He tried to manipulate Lara Jean into attending a college close to him instead of going across the country to NYU, which she fell in love with during her school's senior trip there.  
Peter said, "You chose distance," at one point, with a negative connotation and a serious, angry face when Lara Jean finally decided to make decisions for herself and stop constructing her future after her annoying boyfriend. 
Then, Peter broke up with Lara Jean, because he figured their relationship wouldn't last if they were hundreds of miles apart.
"I thought he gave up too easily on her," said Meredith. She also said, "When they broke up, I had to fast-forward through some parts because it was just so bad." 
Throughout the movie, Peter is whiny and can't accept Lara Jean is her own person.
In the second movie, "To All the Boys: P.S. I Still Love You," the writers set up a perfect relationship for LJ with a boy who isn't annoying and a fake good guy, but rather John Ambrose, who is sweet and genuine. 
Unfortunately, Lara Jean and Peter ultimately end up back together just to break up again in movie three (Shocker!), with Lara Jean headed to NYU and Peter headed to Stanford.  
"I think it was good that she went with her gut instead of just going with what he wanted her to do," Uribe said. 
Anvi Srivastava agrees. 
"[Lara Jean] was like, 'I can choose to stay with Peter, I can choose to stay with my family, but still choose myself and go to the college I want to," she said. 
Overall, the movie shouldn't exist (and neither should the second, but I'm not going to open that can of worms). "To All the Boys 3: Always and Forever" did nothing for viewers. The first movie had a cute, happy ending, but movies two and three dumped a load of crummy banter and drama on us. 
For a long time, this film sent the message that Lara Jean should do what Peter wanted her to do instead of following her heart. The screenwriters didn't fix this until the last bit, when Peter accepts LJ is going to NYU, and they get back together. 
I wish I didn't have to waste almost two hours seeing Peter being the worst boyfriend ever.  
About the Contributor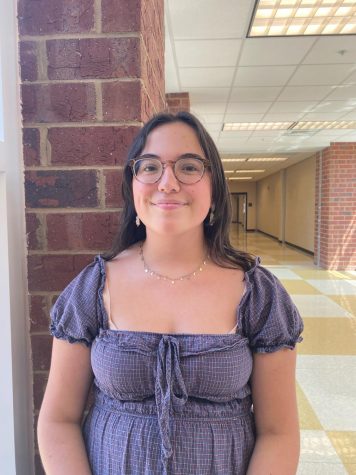 Isabella Dudley-Flores, Managing Editor
Isabella Dudley-Flores is a sophomore and The Bear Witness' Managing Editor this year. She is also co-president of the school's Gay/Straight Alliance...