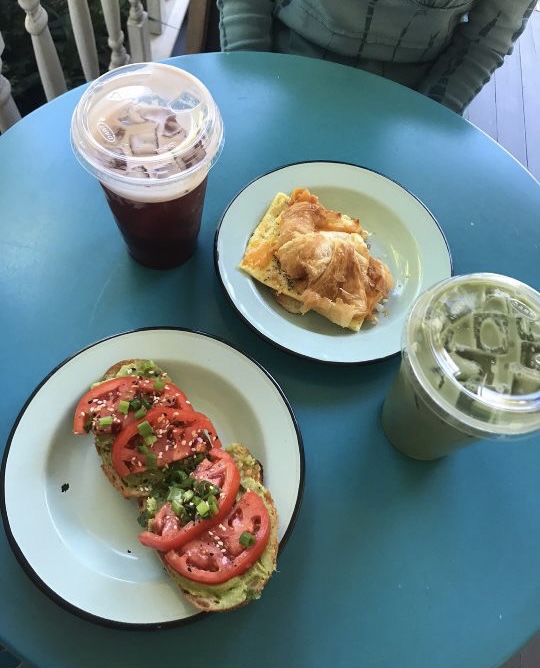 Lindsey Harp
When you wake up and glance at your alarm clock, you discover half an hour has passed since you were supposed to get up. Panicking, you rush to get ready, and as you sprint out the door, you realize you haven't had breakfast.  
You don't want to be late, and you'll have lunch in a few hours anyway, so it doesn't really matter, right? 
Wrong. 
Many students view breakfast as unimportant or even inconvenient rather than essential, but this mindset can be detrimental to students' health. 
"Breakfast helps you keep your mind focused on what you have to do, because if you're hungry, it's really hard to pay attention," said the school's cafeteria manager Erin Keahey. 
"It keeps you awake throughout the day until your next meal. Everyone needs it to function," Keahey said. 
All children need to eat breakfast, especially younger ones, Keahey said. Eating breakfast helps them get through the day emotionally. 
"I think that holds true for older kids too," she said. "They're just not going to be as whiny about [their hunger]." 
Keahey said she thinks it's "sort of silly" for students to skip breakfast in the morning. 
"There's always time for breakfast," she said. "You can socialize and do things later." 
The school cafeteria is open for breakfast for 30 minutes in the morning. "Comparatively to the whole school," not many students take advantage of it, Keahey said. The cafeteria serves around 40 to 50 students each morning. 
More students are purchasing breakfast at school this year now that all meals are free, though. School-offered breakfast includes foods such as "biscuits with assorted meats, French toast, pancake on a stick, cereal, yogurt, muffins, fruit juice, milk and fresh fruit, like apple slices," said Keahey. 
Students "definitely need protein" in their breakfasts, Keahey said. Fruits and vegetables are good choices because they are full of vitamins. Healthy drink options include milk, juice and water, which students should drink throughout the day because it is the "best thing to have," she said.  
Breakfast "sets the tone for the day," said Jill Williams, a nutrition educator for the St. Louis District Dairy Council. 
"You're fasting overnight. You're not eating anything for maybe even 12 hours, depending on when you eat dinner. Breakfast is an opportunity for you to refuel and rehydrate." 
Studies have been conducted to research the short and long-term effects on students who don't eat breakfast, Williams said.  
Short-term effects include lower test scores, since students don't have the energy to maintain their focus that other students have gotten from breakfast. Long-term effects might include a higher body mass index, since not eating breakfast makes it more likely for students to overeat during other meals. 
Senior Cole Suplee eats breakfast regularly and believes it benefits him. 
"It just starts the day off right and helps me get energy in the morning," he said. "If I don't eat it, I just feel groggy and a bit slow."  
On a normal day, he might eat eggs and possibly an apple or a bagel. 
Suplee, who runs track and plays hockey, said he understands the importance of breakfast when it comes to sports. Eating breakfast improves his performance, he said, and gives him the energy he needs to do well. This especially applies to early morning race days. 
Suplee is currently in remote learning, and he thinks this has made it easier for him to eat breakfast every day. 
"I can come down during my first period and make [breakfast] instead of having to rush to get to school and make breakfast at the same time," he said. 
Senior Lindsey Harp said she has experienced the benefits of breakfast, too.  
When she eats breakfast, she has more energy, which is especially helpful when she is at school, she said. Without breakfast, she gets "hangry" and has trouble focusing. She also finds she is less social when she goes without breakfast and gets annoyed more easily. 
She tries to eat breakfast on a regular basis but often must skip it when she is running late in the mornings. She said she thinks this applies to most students. 
"When kids have to cut something out of their morning routine, it's usually breakfast," she said. 
To try to motivate herself to eat breakfast more, Harp made it one of her New Year's resolutions. She decided to set this goal after she made some other changes to her schedule. 
"I started working out in the morning instead of after school," she said. 
She found it was much harder to get a good workout in when she didn't eat breakfast. Additionally, she went straight from the gym to school and ended up grumpy and had trouble paying attention, problems that didn't occur when she ate breakfast. 
Williams understands it can be difficult to fit breakfast into a busy schedule, though. Her remedy to this dilemma is either preparing breakfast the night before, using a meal like overnight oats, or choosing foods "you can grab on the go," like breakfast bars or string cheese. 
Sometimes, fitting in a healthy breakfast "takes a little bit of preplanning," she said. 
There are a wide variety of foods that can make a good breakfast, Williams said, but one of these things should be a good source of protein. This includes foods like eggs and cheese.  
Additionally, a healthy breakfast isn't limited to just breakfast foods.  
"You can have a turkey sandwich for breakfast," she said. "That's perfectly fine."