Denim-on-Denim: Disaster Upon Disaster, Every Time?
The late 1980s was a mess fashion–wise: sequins everywhere, sweat bands, giant parachute pants. My eyes are bleeding with the mental images of these trends. 
Another hot fashion statement 30 to 40 years ago, which seems to be making its comeback (as many trends do), is denim–on–denim. 
The denim-on-denim style amalgamates two or more denim pieces, like a denim jacket and jeans, for example (or, in Britney Spears' case, a denim maxi dress and a denim clutch). 
A denim shirt or jacket paired with jeans has its own term: a "Canadian tuxedo." This phrase began in 1951 after a hotel in Vancouver almost didn't let singer Bing Crosby into their hospitality because he was sporting the look. Art Camwan, who refused him for looking like a "bum," admitted to this. 
Cowboys also wore denim-on-denim in the 1850s. 
More recently, celebrities such as Priyanka Chopra Jonas, Hailey Bieber and Bella Hadid have been inspiring others to take a jab at the combination by wearing this trend on runways and on the streets. 
Sophomore Isabella Boutros thinks Bieber and Hadid are "some of the biggest influencers in fashion right now," so she's not surprised they could make this look work without fail.  
These women are known for wearing outfits within the streetstyle aesthetic, which is Boutros' go-to style, as well. 
"I have worn denim on denim recently," Boutros said. "I've been trying more streetstyle and outgoing looks." 
Freshman Cruz Rockwell has also worn denim–on–denim, but this isn't something he'll do again. 
"It was the first two things I saw, and I put them on," he said about the only time he's worn the look. 
Denim–on–denim is atrocious at times and looks really good at others. 
For example, a denim vest – please don't wear this in the first place – and low–rise jeans. This combination would be an example of how the trend can end in atrocity. 
Also, can we all agree button-downs are extremely unpleasant to look at when in this fabric? Especially if it's further paired with jeans. Please, no. 
I've also seen denim rompers, which I suppose isn't denim–on–denim but rather just one all-over piece that manages to be as bad as two pieces in the fabric together. 
I suppose a cropped jean jacket and jeans of the same color wash would work well together, though. I would also deem patchwork denim pieces, which are just patches of denim of all washes sewn together, a success because they are eye-catching and in a good way. It still, however, is hard to make work. 
"I'd say [it's a] seven out of 10 with 10 being difficult to pull off," said Andersen. 
Boutros, Rockwell and others who aren't world-famous models also find the trend to be a challenge. 
"I think there's only a small amount of people who can pull it off," Rockwell said.  
Boutros knows the key to making these late 1980s-inspired outfits work, though. 
"The only way to properly wear this look would be with oversized clothing," she said over text. "If you are looking to properly pull off denim on denim, I recommend going with a basic, oversized jean jacket with matching wash baggy pants." 
I mentioned earlier patchwork denim is a success even though it incorporates different colored washes. Other than that, I think it's extremely difficult to wear two or more different colors of denim and not look like a train wreck. 
Zach Andersen fully agrees with the part of Boutros' tip about color, though. 
"The same color denim is the most important factor," he said. 
Basically, denim on denim works out well, just not in every situation.
About the Writer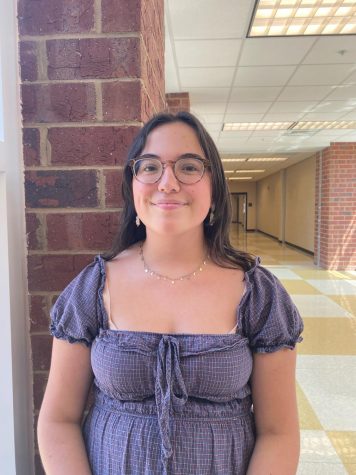 Isabella Dudley-Flores, Managing Editor
Isabella Dudley-Flores is a sophomore and The Bear Witness' Managing Editor this year. She is also co-president of the school's Gay/Straight Alliance...