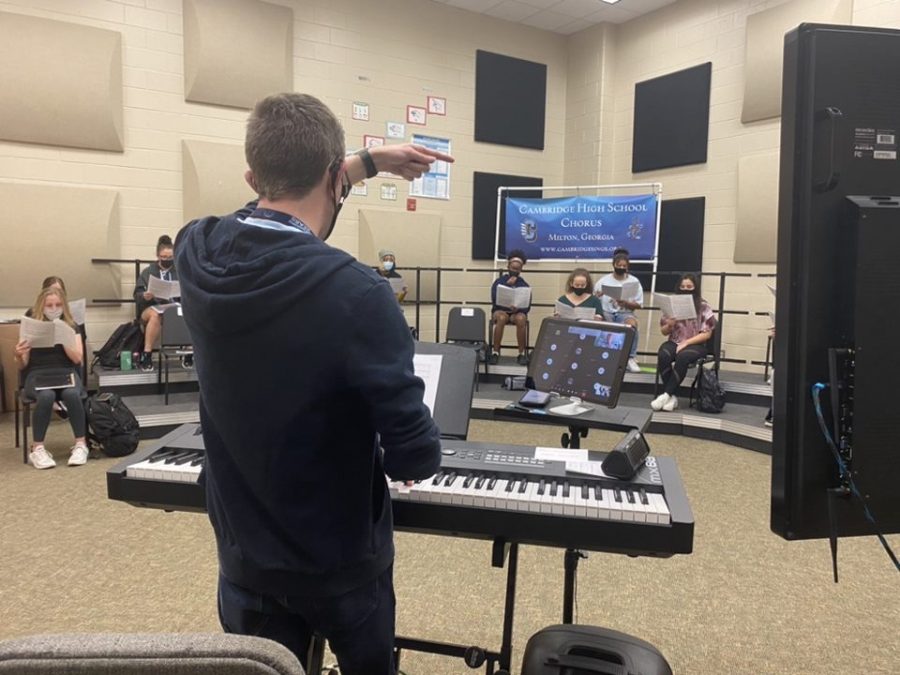 Isabella Dudley-Flores
Although students may struggle in an environment that blends face-to-face and virtual instruction, students in performing arts classes face more unique challenges. 
Since 45 out of 85 students in the school choir are still learning remotely, it creates problems for when they must practice singing. 
Freshman Gabriella Pieterse, a member of the mastery women's choir, attended class remotely but switched to face-to-face. She said reading new music without hearing singers around her proved to be a test. 
"We sight read a lot, so people in universal remote learning are limited," she said.  
Most members of chorus are not practicing online anymore, so blending their voices requires less effort, Pieterse said.   
There are many ways going into the classroom has been easier for students because "it's been a lot more upbeat in-person," said Olivia Prevallet, a sophomore who attends chorus face-to-face.  
"Practicing online was harder because the conductor couldn't hear us at home," said Prevallet. 
During virtual meetings, she said people struggled the most with finding pitch and matching the tempo because not everyone's microphones would work together. 
Pieterse said "it didn't motivate me, and it was weird," and "[chorus teacher Matthew Van Dyke] is more focused on the class in-person." 
However, Prevallet said blending her voice with the others was never a problem for her; it always came to her naturally. 
When warming up, the chorus usually practices vocal exercises, like stretches and scales, and they have been doing them since the beginning of the year.  
Members of the chorus sit at-least six feet apart whilst wearing a mask for in–class learning. 
Van Dyke said he would still like to plan an in-person concert in winter. However, as far as concerts go for now, the chorus will not be having any until next year.  
Despite many of the school's singers participating remotely, several clubs within the chorus remain active.  
One of the clubs is called Vox, which is the Latin word for "voice." Vox is a co-ed mastery choir comprised of singers from the intermediate and mastery women's choir and the men's choir.  
Another club mentioned by sophomore Sofia Sendenco is Choral Council, a club where students take different positions like president and vice president to spearhead events and fundraisers that the chorus holds. 
Van Dyke also has a positive affirmation box for other students to write notes about how hard everyone has worked during their class period that day. 
Sendeco and Prevallet said they are proud of Van Dyke for what he has accomplished this year. 
"I think he's a little stressed but doing well considering things have been hectic, and he's doing a good job of incorporating the freshman," said Sendenco. 
Unquestionably, the circumstances surrounding COVID-19 pose challenges to instruction. Prevallet praised Van Dyke for overcoming these and other challenges during this unusual year.   
"I think he's doing a great job this year with his newborn baby, and the current remote learning and face-to-face learning situation," said Prevallet.