Cambridge SkillsUSA Sweeps Halls with National Championship Victories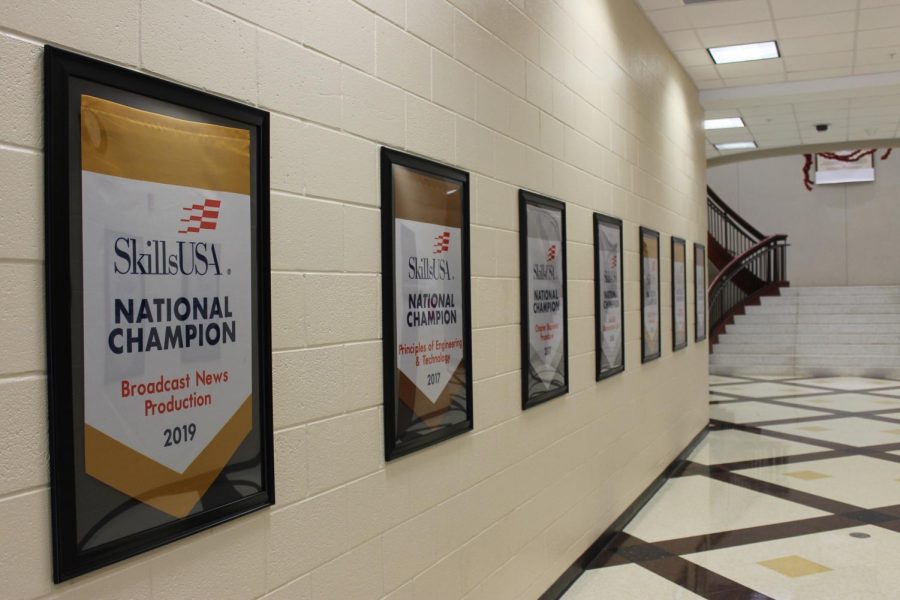 As students walk down the school's spiral staircase and through the central hallway, many may recognize a new addition to the walls.
The banners, showing off colors of white, gold, silver and bronze line the hallways.
These banners come from SkillsUSA competitions, a series of competitions students compete in to demonstrate trade and technical skills. For instance, some events include architectural drafting, principles of engineering and technology and broadcast news production.
SkillsUSA competitions showcase skills students can learn in many of the school's career-tech classes and pathways, such as film, engineering and law.
Each of these banners holds a story of hard work, determination and success.
These banners aren't any old banners; they're national championship banners, meaning the students representing Cambridge High School are the best or among the best in their respective events in the nation.
"Seventeen-hundred classrooms every year send 10,000 kids. Only three are recognized," said Thomas Washburn, who teaches the school's law program.
Three students out of the thousands who compete at SkillsUSA means winning any national medal, whether it be gold, silver or bronze is still an accomplishment.
"A national achievement in anything is really impressive," said Harold Funderburk, the school's film teacher.
Earning these banners is extremely hard, yet the school has managed to earn more than 11 in the eight years it has existed.
"We've done a lot of things at Cambridge that no other school has done," said Funderburk.
Washburn agrees with this sentiment.
"Nothing about our SkillsUSA is normal," said Washburn.
"We have so many," he said, referring to the banners the school has achieved.
In both Washburn and Funderburk's room, multiple first place state champion banners line the walls.
So the question now is: How is any of this possible?
"We're a perfect storm," said Washburn.
According to Washburn, the several components of this "perfect storm," like the school's unique community, the phenomenal teachers and hard-working student leaders, combined with the fact that Cambridge High School is a top school in academics, means that the school should be reigning.
This combination, along with years of experience in the organization from the teachers and students leads to a well-rounded and strong team that dominates the competition.
"If we aren't doing well, why aren't we," said Washburn, referring to the team's placement in competitions. "Everything is right for us to do well."
There is no secret handbook for why the school does so well in SkillsUSA, but if there was one ingredient that makes the whole system work, it's the student body.
According to Funderburk, hardwork and determination that comes from students drives them to do the best they can.
For instance, the students don't take a lot of days off, are eager to win and feel no pressure when competing because they know what they have produced and are proud of it, said Funderburk.
"It's fun to watch them want to work," said Funderburk.
The students also know that winning national banners will "take their resume to the next level," said Funderburk.
"All credit to the kids," said Funderburk. "I do a good pep talk, I'll take that credit."
With all these amazing things that the school and primarily the student body has done, the purpose of putting up these banners was to highlight these accomplishments.
"We have some kids who busted their butts, and they deserve national recognition," said Washburn.
The career tech departments wanted to make the school proud of the achievements they have and take pride in the work that happens at the school.
"The idea we had with displaying them is to really make the halls of Cambridge filled with pride," said Funderburk.
The look of the banners lined along the hallway make for a nice, clean movie theater-like look, said Funderburk.
The film department team is happy with the new addition that highlights their work.
"We're proud of it," said Brooke McLain, a senior and member of the film class. "I'm glad I can represent Cambridge."
As well as showcasing achievements, the SkillsUSA team hopes that other students see the banners and get inspired to join SkillsUSA.
According to Funderburk, not a lot of students are familiar with SkillsUSA.
And for those who are in SkillsUSA or are in any other career-tech department, the team wants them to know that nothing is impossible.
"It's possible if they try it," said McLain.
The SkillsUSA team is proud of the work they've done and enjoy seeing their achievements being displayed as a source of pride for the school.
"I'd hope to put up more," said Funderburk.
About the Contributor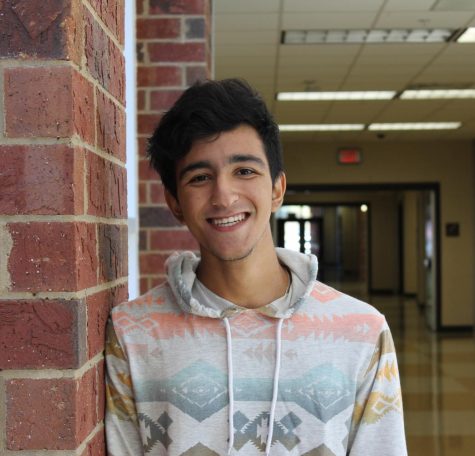 Aley El-Olemy, Staff Writer




Aley El-Olemy is a junior and a first-year reporter for the Bear Witness. Aley enjoys spending time with friends and going out to eat. His...