Cambridge Football Team Welcomes Young Players, Looks Forward to Season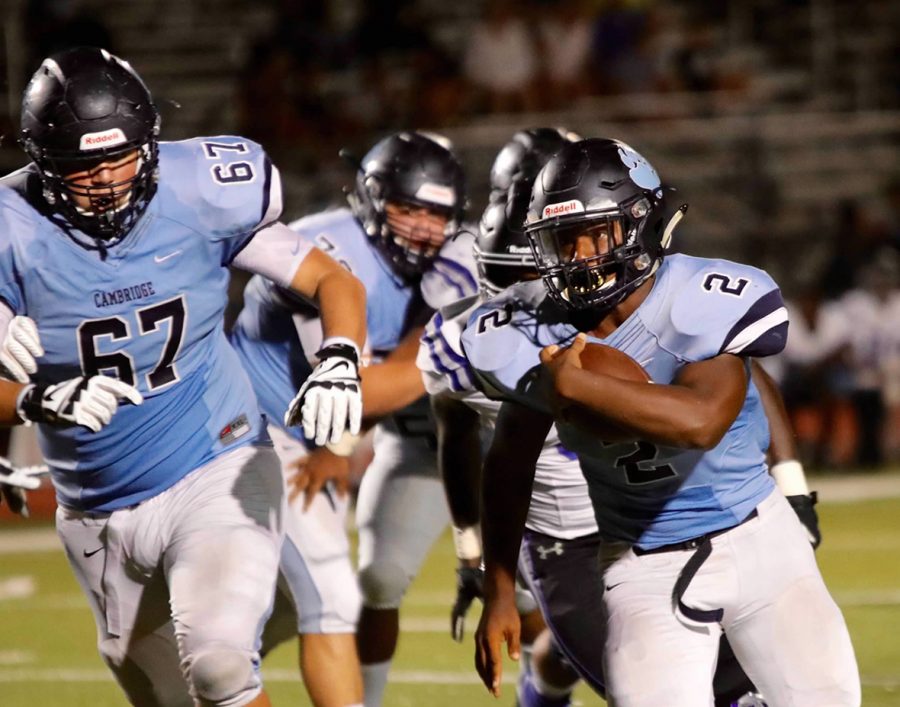 Cambridge football is completely different this year. There's new starters, a younger team and new traditions. Even our starting quarterback is a sophomore.
It's not a traditional recipe for success, but it could be just what they need.
The Cambridge football program has existed for eight years, but this is one of the youngest teams in the school's history. Two star players — Evan Kurtz, a wide receiver, and Ryan Counts, a defensive back — are both only juniors, along with multiple sophomores on the varsity team.
Having this young of a team is unusual, but not unheard of.
In the first year of the school's opening, the team started 13 freshmen. This year, they may not be starting 13 freshmen, but still have very few seniors.
Because of this, senior Mike Hudson said the seniors on the team have an increased leadership role.
"We are completely different than last year's team. We're very young, and somewhat inexperienced in Friday night games," said Varsity Football Head Coach Craig Bennett.
Bennett also said the talent was obvious over the summer, but the players needed time to develop.
Luckily, the boys decided to go all in on becoming the team they want to be.
"I really enjoy playing for this team," said sophomore Alex Anderson.
Younger players like Anderson are enjoying the team more than ever.
"This team has bought in to what we're doing, and they come together in a way that makes them fun to be around," Bennett said.
The players have come together to remake their team culture this year, and it's been working. The team had summer practice at 4 PM every day in the blazing heat, but they still put their heads down and got to work.
Students should be increasingly excited for the football team's upcoming games. The team plays Dunwoody on Friday, and Cambridge is looking stronger than ever. The defense has been a strong point for the team.
They are feeling especially confident after junior Hayden Gardella, a wide receiver, made the game winning catch against Woodstock.
"The whole team came together against Woodstock," said Hudsun.
Bennett said he was impressed by the "team mentality coming from them."
As for standout players, Bennett said "We're doing so much good as a team, we don't need to pinpoint players".