Mock Trial Team Reflects on 2019 Season, Looks Forward to Future
Hang on for a minute...we're trying to find some more stories you might like.
The Mock Trial team's season is over now that their district competition is over, but members are already looking forward to next year.
Senior Ayush Kumar, the team's president this year, said he was very proud of how the team performed at district.
The team placed third at district, meaning it won't move on to state, but set a record this year for awards for the team. At the first competition, the region competition, the team members earned six awards, and they earned an additional four awards at district.
Mock Trial awards are given to competitors who perform particularly well at the competitions. Attorneys are judged on their examinations of witnesses and opening or closing speech if they deliver one, while witnesses are judged on their answers to attorneys' questions and character performance.
First-year team members earned three of the team's 10 awards this year. Before this year, only junior Cheney Dunwoodie had ever gotten an award as a first-year member.
Dunwoodie, who will be the team's president next year, said she was particularly impressed with the team's newer members.
"There was a lot of really raw talent this year," said Dunwoodie. "All the first-year attorneys were phenomenal."
Looking forward, many team members are optimistic about next year because so many team members will be able to return.
Kumar said the volume of returning members will help the team perform well next year, and although he'll be gone he has high hopes for the team.
"I really want them to go to state next year," Kumar said.
With only two members graduating, Halfon said, most of the team will be able to build on existing experience and practice.
"I think next year's only going to get better," said sophomore Shir Halfon, an attorney on the team.
Although the team won't be losing many members, Dunwoodie said they are still sad to see Kumar and senior Bona Bitegeko leave.
When the seniors leave, she said, "I'm going to cry."
Dunwoodie said she will be doing her best to follow in Kumar's footsteps and lead the team to success. She plans to use strategies like polling team members after practices to make sure they feel they're getting the most out of practice.
"We put a lot of emphasis on quantity over quality practices this year," Dunwoodie said.
Next year, she hopes to make sure the practices are as effective as possible so they may not have to be spending as much time in the courtroom.
Dunwoodie also said she hopes the case the team tackles next year will be exciting so team members will feel more involved.
Each year, the State Bar of Georgia writes the fictional case that year's mock trial competitions go through. Each year alternates between a civil and criminal case, and next year's will be a criminal one.
"I hope it'll be murder, that's fun," said Dunwoodie. "Oh, I hope it's attempted murder."

About the Writer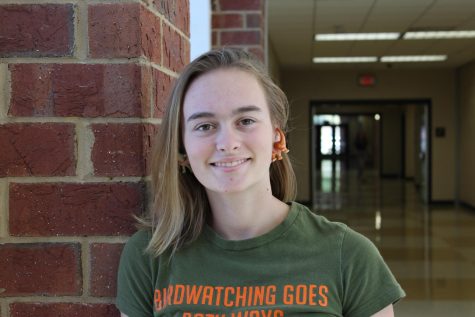 Libby Jones, Managing Editor




Libby Jones is a senior and a third-year reporter. She is one of the managing editors at The Bear Witness. She loves writing, art, and all...