Sweet Sounds of Valentine's Day
Valentine's Day — some consider it the most romantic day of the year, while others despise the holiday.
According to ABC News, only about 54 percent of Americans celebrate Valentine's Day.
During this time, supermarkets stuff their shelves with flowers and chocolates of every flavor, color, shape and size. But, other than buying gifts for loved ones, how do people celebrate Valentine's Day?
There is no traditional celebratory meal or elaborate decorations to symbolize the holiday. It doesn't have a defined music genre like Christmas, either. However, the music industry is flooded with love songs.
Although love songs are popular year-round, many people associate them with Valentine's Day since the holiday revolves around the idea of love.
"Love Story" by Taylor Swift is sophomore Abi Beirne's favorite love song.
"It's a classic from my middle school days," said Beirne.
This song is included in Seventeen magazine's article "The Best Valentine's Day Songs of All Time." It listed 20 of the most popular love songs.
Also included in the article is "All you need is Love" by the Beatles, "Rock with you" by Michael Jackson, "All of Me" by John Legend, "Marry Me" by Jason Derulo and "Perfect" by Ed Sheeran.
Each song in the article, whether the topic was marriage, commitment, dating or relationships, relates to both love and Valentine's Day.
When asked about the association between love songs and Valentine's Day, junior Ariel Birnbaum said, "I think love songs are really sweet and romantic, but they can also be sad on Valentine's Day if they remind you of certain memories. "
Love songs, similarly to Valentine's Day, can arouse conflicting emotions. Two people could be listening to the same song, and one could be singing along happily, while the other is left in tears.
Just like love songs, Valentine's Day can be controversial.
Out of 25 students interviewed in the cafeteria, about 16 percent said they hate Valentine's Day, 32 percent said they love Valentine's Day and 52 percent said they don't have any particular feelings toward the holiday.
Out of the eight people who said they loved Valentine's day, seven of them said they are in a committed relationship.
"I hate Valentine's Day because I have nothing to celebrate, but I like love songs. My favorite is 'Little Bird' by Ed Sheeran," said junior Annabel Harteveld.
On the subject of love songs, 84 percent of respondents said they like them and listen to them frequently, 8 percent said they listen to them but not on Valentine's Day and 8 percent said they don't listen to love songs at all.
" I don't need music to remind me that I'm single on Valentine's Day. My friends already do that for me," said junior Gidado Basharu.
From the data, it's evident that love songs were popular among the students interviewed. On the other hand, Valentine's Day was perceived differently depending on the student.
About the Writer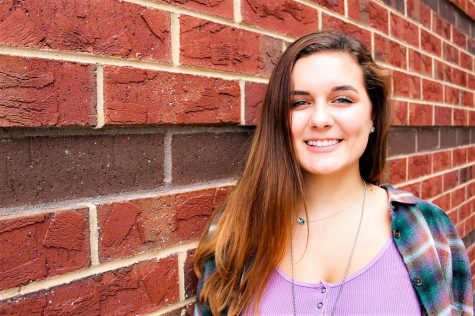 Sarah Hudson, Reporter
Hudson is a junior and a first-year reporter. She loves anything that's creative and has a passion for traveling.