Student Council Revs Up Holiday Spirit with Car Decorating Contest
Some people go all out with decor during the holidays, especially outside their homes with elaborate montages.
Other people: their cars.
Student council held a holiday car decorating competition during PAWS Thursday to rev up students' weary mood about finals.
The dreaded tests before the end of the semester are right around the corner, so student council wanted to incorporate some holiday cheer with a fun, light-hearted activity.
"I really want to prioritize student mental health," said senior and student body president Matthew George.
George said how stressful it can be around this time of the school year with teachers cramming in exams when we also want to focus on enjoying the winter holidays.
Student council wanted to "raise holiday spirits" with this competition, said junior and student council treasurer Ashley Lombres.
Four competitors arrived to showcase their creations in hopes of winning a free prom ticket.
Senior Luci Allen's car was the first in the lineup. She decked her car with a red bow, tinsel and gingerly sat a stuffed Grinch in the driver's seat. It had indoor and outdoor decorations, which was important to the judges.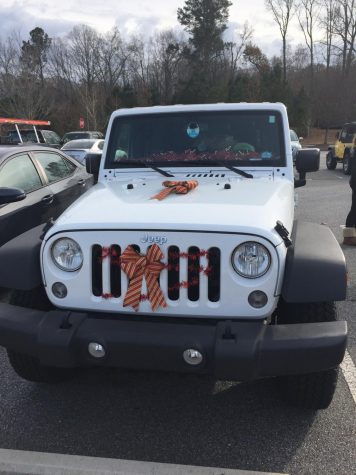 Perhaps the most outside-of-the-box car was senior Aalia Garrett's.
A horse skeleton from the agriculture building decorated with a real horn and a luminous red nose "pulled" the car as if it were a sleigh.
"I am in my school's FFA program and I got very inspired by the animals around us," said Garrett as to why she chose the decorate her car like so.
The third participant was senior Imogen Guest. She formed a scene with Santa Claus, presents and red lights around her Christmas creation.
Lastly was senior Emily Matson. Her back seat displayed a cozy Christmas hideaway. Fluffy blankets, a wreath, tinsel and a Christmas tree made it the perfect place to cuddle up with eggnog and a good movie, said freshman class president Ambuja Sharma.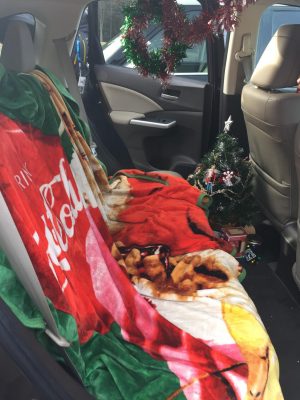 Lombres especially loved Matson's idea of incorporating the tree into her display.
"No one else thought to put a Christmas tree in," she said.
In the end, the judges concluded that Allen's car out-won them all.
Allen's combination of decorations both exterior and interior, creativity and effort just beat the other cars by half a point.
George said the competition ended up successful, as he had hoped.
"Initially, I expected more people to compete, but I'm glad there were only a few vehicles. The outreach was executed flawlessly. It was spread across social media, sent through the announcements, and posters were hung," he said.
However, the participation level did not meet his liking.
"Engagement was an issue among the student body. Perhaps we could've done something with underclassmen," George said.
George said he hopes that this competition will happen next year, "but it's up to whoever takes the reigns."
Participating in the competition clearly boosted holiday spirits as the students blasted Christmas music from their vehicles, danced and had smiles plastered on their faces when explaining their decorations.
Student council's goal of releasing stress and worries seemed to do its job.
About the Contributor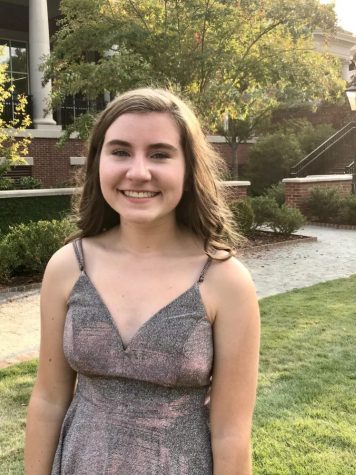 Rachel Lichtenwalner, Managing Editor
Rachel Lichtenwalner is a junior and is excited to kick off her third year with The Bear Witness as managing editor! In addition to writing for the...