Senior Mia Sharma Takes First Steps Towards Musical Future
Hang on for a minute...we're trying to find some more stories you might like.
Nashville, TN is notorious for being a musical hub, and musician Mia Sharma, senior, is no stranger to the city.
In May, Mia had gone on one of her regular visits to help her older sister pack up her Belmont University dorm room.
Little did Mia know, as she got on the elevator in her hotel with her guitar in hand, that a pair of eyes was watching her.
That pair of eyes belongs to Mia's current music producer.
The producer had noticed Mia's guitar and assumed she was an artist, so the next morning, she asked Mia to send over links of hers, such as her Instagram and videos of her singing, that she could look into.
This was what launched Mia's career in music.
"I felt like it was meant to be," said Mia. "I wasn't even planning on going to Nashville that weekend."
With a producer, Mia now has someone to help her enhance her portfolio and give her more exposure to labels in hopes of being signed.
Mia said producing her first song in Nashville this past summer was a monumental moment for her.
She recorded the song under the bright lights of a studio with records such as Taylor Swift's on the walls, and was assisted by multiple adult musicians who have worked with famous singers.
"I loved it. I hadn't heard my song with all the instruments and vocals. I'd only heard it how I'd written it," said Mia.
"Hearing that put together was kind of crazy."
Mia has now released three songs in total, all of which display her country-pop sound.
But even though she has only recently started to take music on a career path, Mia has loved music for years.
One of Mia's best friends, senior Celia Hunt, has been a witness to this passion since freshman year.
Hunt said an inside joke between the two is that Mia is Hannah Montana, an old Disney Channel character who was a famous singer, and that she is Hannah Montana's best friend Lola.
Hunt and Mia often play around with a guitar when hanging out.
"At first, I knew more guitar than she did. But then she got a guitar for her 16th birthday and taught herself in her room," said Hunt. "Whenever I'd come over, she'd say "Let me show you this song.""
Mia said she's always really loved live music and would constantly look for live versions of songs, which made her want to make her own songs.
Songwriting then became Mia's way of processing her emotions, and some of her loved ones have noted her natural talent for it.
"There have been times when she's been like "I wanna write a song", and she does it in 20 minutes," said Hunt.
One such scenario occurred during spring break of Hunt's and Mia's junior year.
The two had come inside from a night at the beach tired and bored.
"We were sitting on the floor of the bathroom, and apparently since the room had really good acoustics, Mia said "Let's write a song"," said Hunt with a laugh.
"She, again, wrote it so quickly, and it's actually on Spotify."
Now, after Mia writes songs, she gets her producer's and her parents' inputs to decide on a few favorites. They then schedule a date for her to go to Nashville to record and produce the songs.
Additionally, Mia performs regularly and works on self-promotions, such as her website, photoshoots and videos.
But even as her music endeavors become more serious, a successful career is not Mia's main motive.
"I think at the end of the day right now if you ask her, she just likes to perform," said Lisa Sharma, Mia's mother. "Whether there are 30 people in the room or a thousand, it doesn't matter to her."
For Mia, the end results of her pursuits are not stressfully high stakes.
"The funny thing is there's no downside," said Lisa. "She's just like "Let's just see where it takes us.""
Like most other seniors, Mia is still applying to college and plans to major in songwriting or music-related business.
But if she gets signed, Mia will take a gap year.
Mia said she wants her music to be something that people can relate to and apply to their own lives to feel a connection.
As she chases her own music career dreams, Mia encourages other young people who also want to pursue an unorthodox path.
"I would say definitely go for it, but don't give up your education," said Mia. "Put time into it, and don't be ashamed of it at all."

About the Writer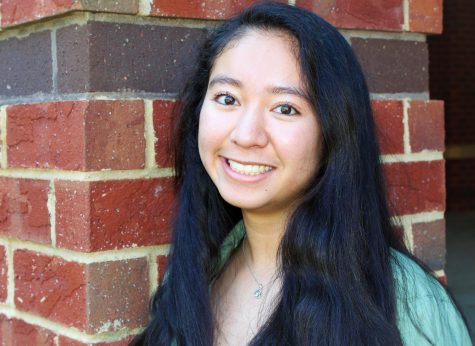 Angeline Fu, Managing Editor
Fu is a senior, and a third-year reporter. Fu serves as one of the Managing Editors on staff. Fu is active in Bridging Generations, National Honor Society...