"A PAWS Spotlight": TAG "Stranger Things"
Not even the Demogorgon can't turn this PAWS' popularity "Upside Down"
Hang on for a minute...we're trying to find some more stories you might like.
There's nothing quite "stranger" than a PAWS where you can earn academic credit for watching your favorite TV show.
Well, we may as well be stuck in the "Upside Down," as the school offered one such PAWS this semester know as the "Stranger Things" Talented and Gifted (TAG) PAWS.    
The "Stranger Things" TAG PAWS was a new PAWS offering, in which 29 students watched and analyzed the Netflix original show, created by brothers Mark and Ross Duffer, for TAG credit.
Fulton County Schools allow TAG students the chance to earn credit through what are known as "seminars." The school primarily offers these through PAWS.
Other TAG-accredited PAWS offerings include Book Club, History vs Hollywood and Surviving the Zombie Apocalypse.
Non-TAG students were also able to join the PAWS this semester, just for their general enjoyment, and not for TAG credit.     
A daily snapshot of the "Stranger Things" PAWS saw students doing more than just binge-watching and discussing the show with their fellow peers.
Students actually did a variety of writing activities that better equipped them to understand the plot, characters and literary devices of the hit show.
These activities included writing short responses to questions based on episodes they watched, connecting current popular songs to scenes from the show and writing a new ending to the first season finale.
The PAWS didn't just limit itself to writing activities, as it also gave students the opportunity to take part in some role-playing and visual projects.
One of these such projects was a mock FBI investigation that focused on the disappearance of Will Byers, one of the show's main characters. The task for the investigation was to create a missing person's poster.
English teacher Randy Gingrich is the creator and sponsor of the PAWS.
"My daughter and I enjoyed watching 'Stranger Things', so I thought it would be an interesting topic for a seminar," said Gingrich.
Gingrich said he thinks the show vividly portrays the age of adolescence and offers some pretty interesting takes on the genres of horror and science fiction.
Some students enrolled in the Stranger Things PAWS said it was a rare chance to earn credit for something they enjoy.
"I joined the class because I get to watch a show I enjoy and earn a TAG credit," said freshman Sydney Todd.
Freshman Ali Subhani said more students should take part in the PAWS next year because it's centered on a popular show many enjoy. Gingrich said he plans to offer the PAWS again.
"I watch the show and learn more about the characters throughout the activities we do," said Subhani.
In the end, the "Stranger Things" TAG PAWS is one PAWS whose appeal and impact on students cannot be understated.
"Stranger Things" is something we can all enjoy watching," said Subhani.

About the Writer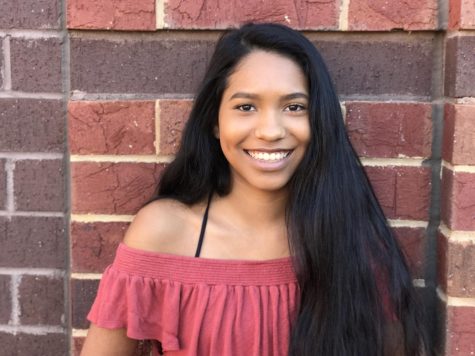 Maria Hernandez, Reporter
Hernandez is a freshman, and a first year reporter.