"Love, Simon": A Movie Review
Hang on for a minute...we're trying to find some more stories you might like.
Everyone deserves a great love story.
From star-crossed lovers to modern day fairytale couples, we all deserve one.
"Love, Simon" is no exception.
"Love, Simon" is a teenage, coming-of-age romance movie based on author and Roswell native Becky Albertalli's debut novel, "Simon vs. the Homo Sapiens Agenda."
The film follows the life of Atlantan Simon Spier, (played by "Jurassic World" actor Nick Robinson), a closeted gay high school senior who's trying to accomplish two specific goals: These two specific goals are to come to terms with his own sexuality and come out as gay without it disrupting his picture-perfect life.
While dealing with this inner struggle, Spier finds out about another closeted gay teenager through his school's online messaging board. As a result of this, both teens begin to communicate to one another anonymously, which eventually becomes a romantic relationship.
After realizing that he can't remain hidden for the rest of his life, Spier soon sets out on a quest to not only come out to the world, but to also finally be part of a great love story for the ages.
"Love, Simon" is a groundbreaking film, as it's the first mainstream film released by a major Hollywood studio to focus on a gay teenage romance.
That studio is 20th Century Fox.
The film is a complete gem in its own right, (even with this historical feat), as it both dared to normalize society's views on what a great love story is, and dared to reshaped the meaning of having a great love story.
"Love, Simon" plays out as one of director John Hughes' classic 80's teen films and not as one of the many LGBTQ,(Lesbian, Gay Bisexual Transgender and Queer), films of the 21st century. It was more along the lines of "The Breakfast Club" and "Sixteen Candles" than "Call Me by Your Name" or "Moonlight."
The film showed audiences that messages found in all types of love stories are universal ones. You can be of any sexuality to relate to them.
"Love, Simon" is no different, as you don't have to be part of the LGBTQ community to relate to this film. As such, the film was able to act out most of its title character's struggles as ones that are part of any love story's terrain.
Junior Genevieve Spencer said she hopes the film can further continue this trend in Hollywood.
"I think a lot of LGBTQ media is based on the struggles and not the love story side of it," said Spencer. "I hope the movie can go against that and take a big step in normalizing them more as normal rom-com things."
Another feature that goes along with this notion was the flick's soundtrack, as the original music correctly set the tone for each one of the flick's scenes.
Singers Khalid's and Normani's single "Love Lies" and band Bleachers' "Alfie's Song (Not So Typical Love Song)" and "Wild Heart" were just some of the many songs instrumental in moving the main storyline along.
The actors can't be forgotten as well, as the film's success is dependent on their performances.
Robison does an excellent job as the film's emotional rock, as he navigates the different emotions that come with a role of this magnitude. He also makes sure to stay away from the gay tropes that the public has come to expect, and instead plays his character as any other regular teen.
Speaking of which, there's even a scene in the film where Robison, (as Spier), jokes about the gay tropes society has come to expect from both the media and LGBTQ people in general.
A few other actors to look out for as well include "Veep" actor Tony Hale as the vice principal and "Insecure" actress Natasha Rothwell as the drama teacher. Both actors add some comic relief to the film's more depressing scenes, with Rothwell being the standout of the two.
You may also want to keep your eyes peeled for actress Jennifer Garner's, ("Miracles from Heaven") knockout performance in the film. Garner, (as Spier's mother), perfectly delivers a monologue that captures what most parents of LGBTQ kids are dealing with themselves, as a result of their children being closeted for so many years.
One last positive about the flick was how the film was able to balance both the elements of comedy and drama.
Director Greg Berlanti, ("Riverdale", "Supergirl"), made sure that each element never interfered with one another's role in the film, and that each one was woven into the narrative naturally.
Now while "Love, Simion" has many qualities that make it a film worth watching over and over again, there were a few negatives.
The first one being the character development for its namesake character was particularly weak, as the film never moved on from the fact that he was an average teen who just so happened to be gay. Because of this, Spier came off as a rather bland individual, as he was never fully-fleshed out as a human being.
As such, audiences never got to learn a little bit more about him as a person.
To add insult to injury, it almost seemed as if his group of diverse friends was more interesting than he was.
This group of friends includes Spier's oldest best friend Leah Burke, (played by "13 Reasons Why's" Katherine Langford in her motion picture debut), his soccer player pal Nick Eisner, (played by "Spider-Man: Homecoming's" Jorge Lendeborg Jr), and new girl Abby Suso, (played by "X-Men: Apocalypse's" Alexandra Shipp).
One last negative is that it never raised the stakes, as not every out teenager is able to reach a satisfying conclusion to their journey.
According to The Suicide Prevention Resource Center, around five to ten percent of all LGBTQ youth have attempted suicide. This is a rate that's one to three times higher than the heterosexual youth.
"Love, Simon" should have taken a closer look at reality and included these themes in the film. If the film would have done this, then its main point of struggles would have been driven even further into the minds of moviegoers.
In the end, each generation has a film that truly changes the world's out course on a variety of topics, thus becoming a groundbreaking film and way more than just a reason to get out of the house.
With a 91 percent on Rotten Tomatoes and ubiquitous appraise from almost all, "Love, Simon" may as well be our generation's groundbreaking film.

"Love, Simon" is rated PG-13 and out in theaters now. 

About the Writer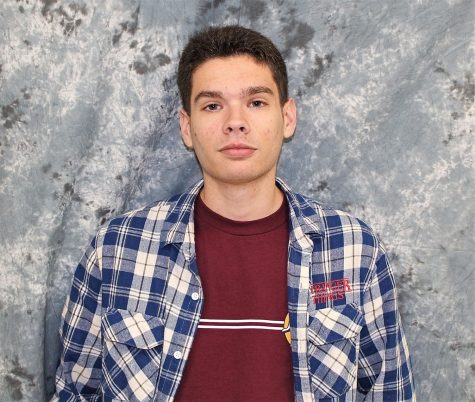 Daniel Jimenez, Editor-in-Chief (First Semester)
Jimenez is a senior and a fourth-year reporter. He served as the Editor-in-Chief for The Bear Witness for the first semester. Jimenez previously served...