Cambridge Mock Trial Team Looks Back on an Unusual Season
Hang on for a minute...we're trying to find some more stories you might like.
If you've ever wanted to be on "Law and Order", then the mock trial may be the club for you.
The school's mock trial team, coached by Law and Justice teacher Thomas Washburn, has performed well in the five seasons it has existed.
This year, however, they fell short by not placing in the top three at regions and missed out on the chance to compete in the district competition.
The team, which consists of 12 students, was half new this year after many longtime members graduated or left following the 2016-2017 season. While there were several four-year members last year, there was only one this year: mock trial president and lead prosecution attorney, senior Srijita Nandy.
"They were the original members of the mock trial team at Cambridge," Nandy said of last year's seniors. "They taught me everything I know."
This year, it was Nandy's job to help the new team members live up to that legacy.
In the past, the school's mock trial team has taken home first and second place at regions, the first level of competition, and second and third place at districts, the next level up.
This year, their goal was to win at districts so they could go to state, but at regions on Jan. 26 and 27, they narrowly missed district.
With so many changes to the team, it has been a difficult season.
"It hasn't been easy, especially since last year was like a really big family," said sophomore Cheney Dunwoodie, a second-year witness on the team.
In addition to having a lot of new members, including The Bear Witness Managing Editor Cherise Kim, the team has had challenges with commitment.
"Along with having so many new people, we've had a lot of setbacks like having to ask a team member to leave and having one of our new members quit three weeks before the competition," Dunwoodie said.
To compensate for having so many new members, the season was a little different this year than in the past.
For starters, practices began earlier than usual. In the past, practices have begun in mid-October, but this year they started at the beginning of September.
"Everyone had to start from the beginning," said freshman Shir Halfon, a witness on the team.
Nandy said they focused more on the basics this season, like learning what the different types of examinations are, and spending more time going over the rules of mock trial.
They also continued to work with Dan and Jared Mitnick, real lawyers who help to coach the team, said Washburn.
Nandy said the longer season paid off and the new members learned a lot.
"There has been a lot of feedback given, a lot more room for improvement," she said. "I'm really proud of our team members, they've come so far."
Despite their confidence and hard work, the team was unable to make it to the district competition. However, a few individual team members earned awards at regions.
Nandy won Outstanding Attorney in both rounds of competition and received a certificate for being a four-year member.
"She really deserved them," Dunwoodie said of Nandy's awards. "I have a strong feeling if we had gone on to the third round she would have won there, too."
Senior Allie Kench, the team's lead defense attorney, won Outstanding Attorney in her first round of competition, and Dunwoodie won Outstanding Witness in her second round of competition.
"I do think we did an amazing job," said Dunwoodie, adding that she looked forward to finding ways to improve further and "come back ten times stronger next year."

About the Writer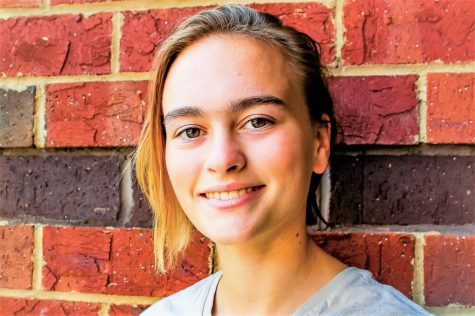 Libby Jones, Managing Editor
Jones is a junior and a second-year reporter. She serves as one of the Managing Editors on staff. She likes creative writing and plans on studying biology...