Cambridge Remembers the Lasting Impact of Mrs. Rebecca Yarbrough
Hang on for a minute...we're trying to find some more stories you might like.
The first day Cambridge high school opened its doors, in walked Rebecca Yarbrough, ready to take on teaching for the first time in her life.
For the next five and a half years, Yarbrough returned each school day, whether it be to teach algebra, geometry or simply how to roll with the punches life throws at you.
Through these years, the school gained more than just a math teacher; it gained a friend, a light and an inspiration.
Yarbrough died of breast cancer on Jan. 11. In the years she taught at the school, she won the eternal gratitude and admiration of the Cambridge community.
"I just remember her being so excited to join our staff," said Principal Edward Spurka. "She was full of life."
Spurka said Yarbrough was incredibly selfless, always putting her students and family first.
"I think one of the things I'll always remember is she parked by me at school, so we would always walk together," said Spurka. "She always had a big suitcase with her, and I teased her with all that stuff. One time I asked if I could help her carry it, but she wouldn't let me. She was always worried about burdening others."
This thoughtfulness was apparent to her fellow colleagues in the math department, as well.
"What always struck me about her is that, here's a woman who always has terrible stuff going on," said Math teacher David Pomerance. "But when I talked to her, she would always take a genuine interest in my boring life, asking 'how are the kids?' There's no one else like her."
Math teachers said Yarbrough never mentioned her illness, unless asked about it, and that she was heavily devoted to her job as a teacher.
"Mrs. Yarbrough taught her students and colleagues way more than mathematics," said Math Department Chair Nancy Barker.
Junior Claire Hampton is one of the students who was close to Yarbrough, as she had her as a teacher for two years of high school and was also her student mentor for the first semester of the 2017-2018 school year. 
"She radiated optimism," said Hampton. "She's just so upbeat and such a nice person to meet; she was always there for you, always looking out for you always like an 'I got you' kind of thing."
Hampton spent her mentoring time bonding with Yarbrough and said she considers having that opportunity to be a blessing.
"She left really big shoes to fill, just because she was such a kind, caring teacher," said Hampton. "She was the teacher that made me really love math again."
Junior Vanessa Haak was also in Yarborough's class for two years.  
"
Her legacy is just going to be kindness and humor. She was a friend before she was a teacher."
— Junior Vanessa Haak, Yarborough's former student
"Her legacy is just going to be kindness and humor," said Haak. "She was a friend before she was a teacher."
Haak said Yarbrough made sure to get to know students outside of the academic world.
Haak said Yarborough wrote her a recommendation letter to be a CLAWS mentor. "It was really sweet," she said. "I remember thinking if I needed one for college or anything, I would go to her."
Yarbrough brought much laughter and positivity to the lives of both students and teachers. 
Math teacher Andrea Little said one of her favorite memories with Yarbrough took place around Christmas time.
"She came to our winter party, and the math teachers all sat together. The place was decorated with trees, greenery," said Little. "We were eating at the table, and Mrs. Yarbrough goes, "Y'all, do you think this tree is real?" She always said "Y'all" in her big southern accent."
"We were breaking little bits off to see if it was real, and she said, "Y'all grab that greenery and put it in my purse." And we were just grabbing stems of greenery and putting them in her big bag. That's how she was: fun and humorous. We were always laughing with her," said Little.
Through her character and the life she led, Yarbrough left a valuable impact on those around her.
"She allowed us to see from another person's perspective and see that every person has good qualities," said Haak.
Yarbrough's teachings weren't limited to the classroom. They also included lessons for life outside of school.
"I would say she taught me to never take anything for granted," said Hampton. "Always live life to the fullest, and always be happy."
Yarbrough's wisdom spread to teachers as well.
"It struck me how amazing this was. She never missed a day of school unless she had to, even if she felt bad," said Barker. "That was a big thing for me to learn from her. Keep going, even if it's hard. She never stopped."
"
Courage in the face of adversity. It's a strength I might not have believed had I not witnessed her doing what she did."
— Math Department Chair Nancy Barker, Yarbrough's friend and coworker
"Courage in the face of adversity. It's a strength I might not have believed had I not witnessed her doing what she did," said Barker.
Yarbrough's ardent spirit for her position in the school was apparent to those who knew her.
"Sometimes you do a job because you have to," said Spurka. "She did it because she loved it; she loved teaching."
Yarbrough left an uplifting and lasting legacy for the school.
"Cambridge will miss her, and she really captured a lot of the image I think Cambridge tries to have of this friendly place where all the students get along," said Haak. "I know it's not realistic, but in her classes it happened. I think everyone is trying to emulate her hope and her passion, in hoping that Cambridge would become that place of peace, and happiness and laughter."

About the Writer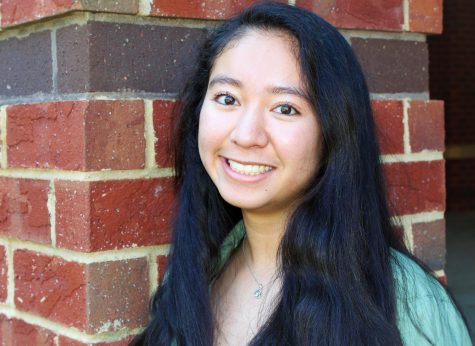 Angeline Fu, Managing Editor
Fu is a senior, and a third-year reporter. Fu serves as one of the Managing Editors on staff. Fu is active in Bridging Generations, National Honor Society...